Hybrid Dental Implants Charlotte NC



Dental implants are usually the best solution for patients with tooth loss. Not only are they stable, secure, and permanent, but they also appear completely natural. However, if you're missing all of your top and bottom teeth due to unforeseen or unfavorable circumstances, you need a different treatment solution.

Getting an implant for each tooth would be very costly, time-consuming, and, of course, frustrating. In that case, you may be a good candidate for hybrid implants. Call Greater Charlotte Oral and Facial Surgery today to schedule an appointment!


What Is A Hybrid Dental Implant?

Hybrid dental implants comprise two main components: an implant and a prosthetic dental crown. The implants are found in groups of four and are fused into their respective place with multiple titanium posts connected to the jaw for a permanent solution to missing teeth.

Like with implants, the prosthetic crown is constructed with different materials to match your natural tooth shape and appearance and is then secured on top of your mouth with the metal posts.


Difference Between Traditional And Hybrid Dental Implants

It is important to know the differences and pros and cons of choosing between traditional or hybrid implants.


Aesthetics

Traditional dental implants are generally fabricated with porcelain and acrylic for enhanced durability and to mimic the look of your natural teeth, as compared to dentures.

Hybrid implants provide an extensive variety of materials, such as quality titanium, acrylic, and zirconia, all options offering various benefits and different levels of durability. Hybrid implants are also constructed to fit your teeth and match your natural look.


Durability and Comfort

Both traditional and hybrid dental implants have a similar installation process, each featuring a titanium metal post that's fused with the jawbone.

However, while traditional implants are fixed and designed mainly for individual teeth, hybrid implants utilize multiple titanium posts to secure sections new teeth or entire rows of teeth.

Either way, dental and hybrid implants can last between at least 10 to 15 years with regular dental checkups and proper maintenance.


Overall Health

Both traditional and hybrid dental implants provide a permanent tooth replacement solution. Once the titanium post fuses with the jaw (osseointegration), a prosthetic tooth, similar in function to your natural ones, will be secured three to six months later.

Implants, in general, help prevent further tooth and bone loss by securing the jawbone and providing it with the stimulation it needs to grow.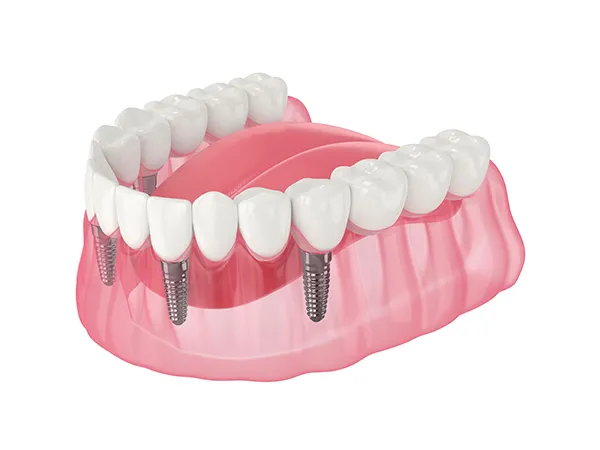 Caring For Your New Smile

Just like with your normal teeth, food can often get behind your implants. Therefore, it is important to brush and clean your teeth and gums regularly, as recommended by your dentist.


Replace Missing Teeth With Hybrid Dental Implants in Charlotte NC

Patients who choose hybrid dental implants as their tooth replacement solution can put their trust in Greater Charlotte Oral and Facial Surgery For more patient information, questions, or to schedule an appointment at one of our locations, contact us at (980) 332-7990.